Best Restaurants in Hubbard, OH
Whether you prefer Mexican or Chinese food, pizza or pierogies, there's a restaurant for you to enjoy in Hubbard, OH. The next time you're not sure where to go when you want a delicious meal that you don't have to cook yourself, use this guide to explore some of the outstanding restaurants in town. Here are five of the best restaurants in Hubbard, OH, and the nearby area.
Lena's Pierogi House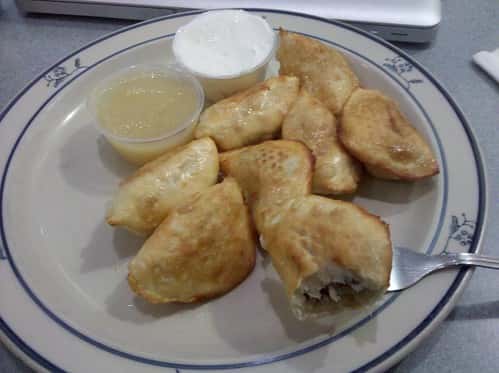 If you've never tried a pierogi, plan a visit to Lena's Pierogi House, ASAP. A longtime local favorite, Lena's Pierogi House specializes in making these dumplings, filled with tantalizing, savory flavors. Making a trip to this Hubbard restaurant is the closest you'll come to visiting Central Europe without leaving the country.
The mom-and-pop shop offers a daily pierogi selection with rotating flavors. Fillings may range from traditional flavors, like cheddar and potato, to more creative combinations, such as bloomin' onion or Hungarian hot pepper. Every Friday, you'll find kraut, sweet cottage cheese, and sweet cabbage pierogies on the menu. Lena's Pierogi House also serves dinner, including delicious Polish and Hungarian platters and stuffed cabbage. You can also try one of the hoagies, such as the kielbasa and kraut hoagie with locally sourced sausage and kraut, topped with cheddar pierogi, haluski, or slaw on a warm bun.
Location: 20 N. Main St., Hubbard.
Hours:

10 a.m. to 4 p.m. Monday.
10 a.m. to 8 p.m. Tuesday through Friday.
Mi Ranchitos
For some of the best Mexican food in Ohio, stop by Mi Ranchitos. The restaurant uses fresh ingredients to craft flavorful, authentic dishes. You'll enjoy the friendly service and relaxed, colorful atmosphere when you visit. Mi Ranchitos also offers daily specials and online coupons, so you can take the whole family without breaking the bank.
Some of the restaurant's most popular dishes include the chicken fajitas, which arrive sizzling to your table, and the Costa Rica, a combination of shrimp, scallops, and crabmeat in a special sauce with tomatoes and bell peppers. You can also order one of the house specials, such as the baked potato ranchito, featuring a baked potato topped with steak or chicken and cooked with grilled peppers and onions. Pair your meal with one of the restaurant's famous margaritas or daiquiris, which come in fun flavors like lime, blue raspberry, and mango.
Location: 322 W. Liberty St., Hubbard.
Hours:

11 a.m. to 10 p.m. Sunday through Thursday.
11 a.m. to 11 p.m. Friday and Saturday.
Belleria Pizza
When the craving for a good slice of pizza hits, look no further than Belleria Pizza. The restaurant, which also has locations in Boardman, Struthers, Niles, Cortland, and Columbiana, offers some of the finest pies in Northeast Ohio. Its Hubbard location features a spacious dining room with a full bar and large-screen TVs, making it the perfect spot to catch a game with friends.
Belleria Pizza makes its dough fresh daily and tops it with an original homemade sauce. Try one of Belleria's award-winning pizzas, such as The Bella, which comes with pepperoni, sausage, mushrooms, bell peppers, and the choice of onions or olives. The Anthony Jr. is another favorite, featuring homemade meatballs, pepperoni, sausage, bell peppers, and onions. Every pie comes baked with the perfect amount of crispness. Other items on the Belleria Pizza menu include pasta entrees, soups and salads, hot sandwiches, calzones, and fried chicken. If you're still hungry after your meal, finish with a tasty dessert, like cheesecake or cannoli.
Location: 882 W. Liberty St., Hubbard.
Hours:

11 a.m. to 10 p.m. Monday through Thursday.
11 a.m. to 11 p.m. Friday and Saturday.
Noon to 9 p.m. Sunday.
Asian House
Make plans to visit the Asian House when you're in the mood for some fresh, delicious Chinese food. The restaurant has an extensive menu featuring a wide range of flavors to satisfy every person in your party. The Asian House also offers exceptional customer service and online ordering for pickup or delivery.
The restaurant serves lunch and dinner with all-day specials, such as sweet-and-sour chicken with crab Rangoon and a spring roll. You can start your meal with a delectable appetizer, like edamame or fried pork wontons. There's a wide selection of fried rice, chow mein, and pad thai noodle options. You can also choose among chicken, beef, seafood, pork, or vegetarian entrees. Chef specials include the General Tso's chicken, honey chicken, and scallops and shrimp with garlic sauce. With a special lunch menu, it's also a great place to meet for a working lunch or midday break from the office.
Location: 27 N. Main St., Hubbard.
Hours:

11 a.m. to 9 p.m. Tuesday through Saturday.
Noon to 9 p.m. Sunday.
Closed Monday.
Station Square
Need a good restaurant for your next date night or anniversary? Make the short drive on Interstate 80 to Station Square in Youngstown, OH. This upscale Italian restaurant continually receives accolades for its scrumptious food and exceptional wine bar. The restaurant also offers wine tastings and live entertainment.
Station Square uses organic, locally sourced ingredients and fresh meats to create mouthwatering dishes, serving a variety of steaks, seafood, and pasta. Start your meal with a tasty appetizer, like the icy shrimp cocktail or stuffed mushroom caps. For dinner, try the pan-fried veal, which comes sauteed in tomato sauce with peppers, or the charred rib-eye, a 16-ounce certified Angus beef rib-eye with charred seasonings. Station Square also serves homemade desserts nightly, offering the perfect end to your delicious meal.
Location: 4250 Belmont Ave., Youngstown.
Hours:

11 a.m. to 9 p.m. Monday through Thursday.
11 a.m. to 10 p.m. Friday and Saturday.
Closed Sunday.
There you go — five of the best restaurants in Hubbard, OH. Do you have plans to try pierogies or visit another restaurant on this list soon? If you're a Northeast Ohio native, did we miss one of the local favorites? Contact us at Cochran Chevrolet Youngstown and give us your feedback on the best places to eat in Hubbard. As a premier car dealership in the community, Our team at #1 Cochran wants to hear from you to shine a light on other local businesses in the area that we may have missed
Pierogi by Dave Winer is licensed with CC BY-SA 2.0