What The Colors Say About Your Car Fluid
Your Chevrolet employs various impressive mechanical systems to deliver the driving experience you love. For instance, turbocharged engines deliver powerful excitement, while transmissions optimize that power for smooth performance. Also, your Chevy's complex braking and steering systems keep the power under control.
All these systems have something in common — they rely on specialized fluids. Some fluids improve efficiency, others improve performance, and some protect against friction and heat. The automobile industry has taken to a universal color for each fluid so mechanics can identify them just by looking. But can you?
Since not all fluid leak colors are the same, Cochran Chevrolet Youngstown has created this car fluid color chart guide on common and uncommon vehicle fluids to help everyday drivers. So whether you plan on trying your hand at a home oil change or find a puddle of something strange under your car, you'll know how to deal with it like a pro. We'll also give you tips on what to look for when changing your fluids.
Engine Oil
We'll start with the big one. Everyone knows their car has engine oil unless, of course, you own an electric vehicle (EV). An EV uses specialized fluids but not engine oil because it doesn't have an engine.
What It Looks Like
When fresh, your engine oil can be between light and dark brown.
What It Does
Your engine oil protects the many moving parts inside your engine against the high heat of combustion and lubricates those parts against friction.
When To Change It
Because of the new engine and oil technology, most new Chevy cars can run as much as 10,000 miles before needing an oil change. But, driving styles may dictate a change sooner than your owners manual recommends. For example, do you do a lot of towing and hauling with your Chevrolet Silverado? If so, you might benefit from changing the oil more frequently. Therefore, we recommend you check your oil often, and if it starts to turn black, you need to change it.
Engine Coolant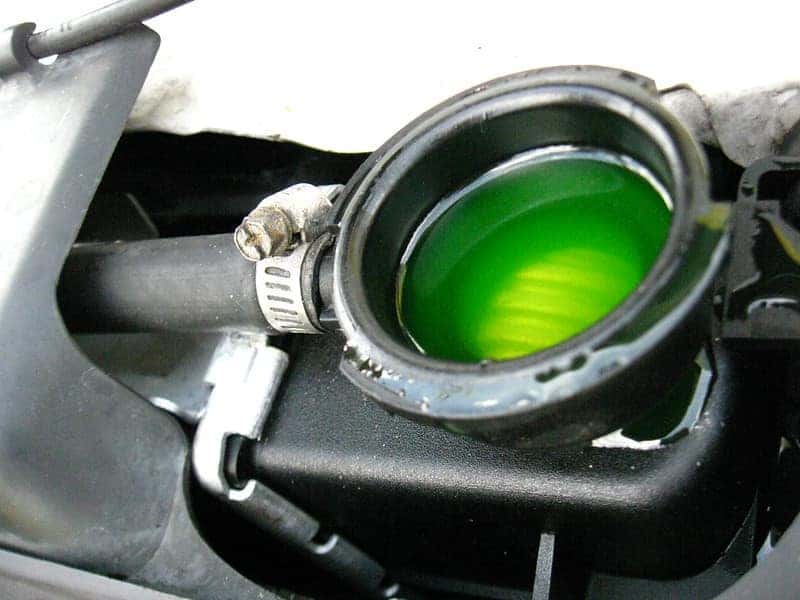 Also commonly known as antifreeze, engine coolants keep the engine from overheating. It's called antifreeze because of its ability to withstand extreme cold without freezing.
What It Looks Like
Engine coolants break from the usual industry color standards, meaning you'll find green, yellow, orange, red, blue, and blue-green coolants. It has the consistency of heavy cream and a translucent quality.
What It Does
Your coolant pumps through your engine block, absorbing the heat the combustion process releases. After leaving the engine, it runs through a series of coils in your radiator that cool the fluid down before restarting the cycle. If you see antifreeze pooling or dripping beneath your car, bring it to our service department immediately.
When To Change It
Depending on your vehicle and the type of coolant, your change interval is between 30,000-100,000 miles. Always consult your owners manual if you're unsure, or feel free to contact our service department for advice.
Eventually, your engine coolant will get old, darken in color, and lose its translucency. It can also pick up particulates from inside the engine, so changing your fluid on schedule is essential to protect the cooling system from damage.
Transmission Fluid
Every vehicle has a transmission, a set of gears that transfers the various power outputs from your engine into a steady stream of smooth energy to turn your wheels.
What It Looks Like
Transmission fluid looks bright pink or red when fresh. However, after gentle use, the color turns brick red.
What It Does
Transmission fluid works like engine oil, lubricating and protecting the transmission's moving parts against heat and friction.
When To Change It
The factory schedule varies by transmission. While manual transmissions typically range between 40,000 to 60,000 miles, automatic ones can go as long as 100,000 miles between changes. So when the fluid turns blood red or dark brown, you need to change it.
Brake Fluid
Your brake system is part hydraulic and part mechanical. First, you depress the brake pedal, activating the hydraulic system, which then engages an automated process to slow your vehicle down.
What It Looks Like
Brake fluid is light to medium brown and thicker than other car fluids. When brake fluid ages, it turns dark brown or black.
What It Does
Your car's brake fluid works in a pressurized system. The master cylinder pressurizes the brake system, and when you press the brake, it directs that pressure through lines running to each wheel. At the end of the brake line, the fluid causes the brake calipers holding brake pads to clamp onto your brake discs attached to the axle. As a result, the pressure slows down the axle's rotation. The harder you press the brake pedal, the more pressure you apply to the calipers, and the quicker you stop.
When To Change It
Depending on your vehicle and driving habits, you should change your brake fluid every 30,000 miles. But you must change it immediately if it turns dark brown or black.
Gear Oil
You'll find gear oil in your axle transfer case. This final gear receives power from the transmission to rotate the axles.
What It Looks Like
Gear oil is light to dark brown.
What It Does
It lubricates the gear in your transfer case to protect it from heat and friction.
When To Change It
You can't check your gear oil level as it's in a closed case. But if you see it dripping, you have a worn seal that needs repair. Most manufacturers recommend that you change the gear oil every 30,000 miles.
Power Steering Fluid
Power steering fluid works in a pressurized system similar to your brakes.
What It Looks Like
Your power steering fluid is red.
What It Does
Turning the steering wheel directs the pressurized fluid into pistons that change your wheels' direction.
When To Change It
Because steering systems and the fluids they need vary widely by vehicle, you'll see recommendations ranging from 40,000-80,000 miles or more. Regardless of miles driven, your power steering fluid needs changing when it turns dark red or brown.
Schedule a Car Fluid Check in Youngstown Today
Is your car ready for a fluid change, or are you unsure of the last time you checked your fluids? Either way, you can count on Cochran Chevrolet Youngstown to do the job. Your #1 Cochran mechanic can tell you more about colors and what they men for the life of your car. You can schedule service online and leave the rest to us.
radiator by EvelynGiggles is licensed with CC BY 2.0